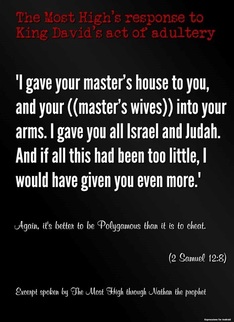 In this day of age, many people waking up to the Truth of their identity and culture of our ancient forefathers Abraham, Ytzhak (Isaac), and Y'sra'el (Israel) have come to take for themselves spouse's to create offspring. Within returning to our culture, some people have taken wives (polygamous), some have married their first wife (monogamous), and yet some have established concubine relationships. As we enter into these relationships you have to know how to please your spouse(s) sexually. There's a lot of stress if you have a concubine*, monogamous or Polygamous* union if you cannot please your partner sexually. Please note getting married to a spouse(s) is a great responsibility that shouldn't be taken lightly. As a man, you should be able to provide for your spouse(s) and that includes sexually. Keep in mind, it's better to have a Polygamous Patriarchal relationship or to establish many concubine relationships than it is to cheat. For cheating only causes bad cycles where the victim will end up doing the same thing to someone else. Thus causing more heartache to another person that had nothing to do with your past. The Most High rebuked the act of cheating, yet He never rebuked multiple wives, but that just seems to go over many people's head because the majority of today's society is unfaithful, sneaky, and liar's. They rather cheat. That's why it's better to be in a Patriarchal relationship than to be cheating around on someone that loves you. In today's society, this act is very prominent especially among the tribe of Yahudah. Many men have numerous secret concubine relationships, and most of their relationships mirror the Patriarchal standard, however it's all done in secrete, which means their lying to their spouse's. Therefore we will share with you the powers of sexually pleasing your spouse.
1. "The wolf is a highly monogamous creature; Benyamin remained less polygamous than the other tribes, hence ended up very small, and merged with Yahudah. They were strong; but at the same time, cunning like the wolf. Yahudah is described as a lion, a highly polygamous creature looking after his pride, so we can see in the descriptions of the Tanach, the tribe of Yahudah, where the Kings and people were polygamous alongside monogamy with many wives and many children." Hidden Truths Scrolls pg. 97, Footnotes. Simon Altaf.
2. "Abraham's Two Concubines" Gensis 25:
6
By a researcher on the studies in Genesis Alice C. Linsley
http://jandyongenesis.blogspot.com/2010/08/abrahams-twoconcubines.html
But Abraham gave gifts, 7 to the sons of the concubines, 8 (8 these were Hagar and Mashek.) which Abraham had, and while he was still living he sent them eastward, away from Ytzhak his son, to the country of the east. 7 The children of the half wives. Concubines could not, in Torah, be permitted firstborn inheritance. This only belonged to Sarah, and her son Isaac. But the gifts here specifies something of value, something tangible like gold, silver, cows, sheep and goats since our father Abraham was very rich, and a favored man of YHWH. Please note concubines can refer to as servants, maidservants, maidens, or lesser wives in Scripture. In modern terms, a concubine relationship can refer to anyone who's living together within a relationship, or under a Gentile marriage.
First we must eliminate the Religious dogma that has been embedded in your minds from a youth. There is no transgression for oral sex. There is no transgression for multiple wives. There is no transgression for different sexual positions. There is no transgression for piercing or tattoos under Torah guidelines. That means no piercings or tattoos that are idols,
· That are for the dead,
· That are religious symbols,
· That are cultist,
· That denote negatively towards yourself, and more. (Please see Rabbi Simon Altaf articles on these subjects at www.African-israel.com). The marriage bed is undefiled could sum up this.
· Interestingly, the making of tattoos as an act of mourning is the most elusive in the list. It is only mentioned once in Lev 19:28 and then never alluded to again in the Tanach. Reference is made to writing on the flesh as an act of dedication to YHWH (Isaiah 44:5), but never as an act of mourning. Yet the practice of inscribing the name of the dead loved one in a tattoo still exists to this very day. Recently this practice has come to the attention of the public when it was reported that New York firemen and policemen were inscribing tattoos on their flesh in memory of their deceased comrades.
1. "Lev 19.28, you shall not make any cutting in your flesh for the dead, nor put any tattoos upon you for I am YHWH
. This does not tell us that we cannot have any tattoos; it is actually saying something very different. It is saying do not commit idolatry. It is saying when people die do not make cutting on your skin for the dead. So this is actually telling you something completely different from what you have been brought up to understand. When he is saying I am YHWH, basically is saying do not follow the nations in putting their false gods on your skin. There is nothing wrong with tattoos as long as they are in the perimeters of not having images of false gods. YHWH is saying do not put tattoos on you for the dead or false gods like Buddha sitting on a lotus flower, which is actually not a good tattoo to have, it is anti-Torah. The Jews ban tattoos in this particular instance. We Y'sra'elites do not ban tattoos we simply say don't put tattoos on which offend God, like a tattoo of Krishna, or Lakshmi, the Hindu goddess. Don't put tattoos of the elephant goddess Ganesh or the black goddess they have. There is absolutely no problem with having images of animals, or flowers or other images, there is no Torah prohibition against it. There is no Halacha against it but the rabbinic Halacha was made, which did not exist originally. I wouldn't put the picture of the deceased grandparent; I wouldn't put it for any reason. Names of the children are fine, no Torah against it. Normal elephant or peacock, no problem, images of things which are not worshipped, there is not a problem. If something is worshipped that can bring the wrong connotation it would be inappropriate. Each case is to be dealt with individually, but sometimes tattoos on the arm could even be difficult to be in public. They now have costly laser surgery to remove tattoos. Tattoos that are not anti-Torah are fine. What
Lev 19. 28 You shall not make any cuttings in your flesh for the dead, nor print any tattoos upon you: I am YHWH,
applies to be in the context of false or idolatrous worship. The pagans printed on their arms things relating to their gods, which our God does not permit. YHWH tells us as far as piercing is concerned that he decked Y'sra'el in finery, He said
I put a ring in your nose, and earrings in your ears. Ezekiel 16.11 decked you also with ornaments, and I put bracelets upon your hands, and a chain on your neck.
Then He speaks about it in
Exodus 35.22 They came, both men and women, as many as had a willing heart, and brought earrings and nose rings, rings and necklaces, all jewelry of gold, that is, every man who offered an offering of gold to YHWH. Judges 8.24 and Gidon said to them, I would desire a request of you, that each of you give the earrings of his spoil. For they had golden earrings, because they were Yshma'elites. Isa 3.21, the rings, and nose jewels,
" Simon Altaf" Simon Altaf.
2.
"Y'sra'el multiplied fast with polygamous marriages as their standard lifestyle. Very few people in Y'sra'el were into monogamous only marriages as thought by many today. The monogamous model of marriage was setup by the Roman/Greek church in the fourth century CE because of the hatred and anti- Semitic attitudes towards the Hebrew people. Many believers in the 1st century assemblies also practiced polygamy which was spoken of and written by the anti-Semitic writers such as Justin Martyr." Hidden Truths Scrolls, pg. 220. Footnotes. Simon Altaf.
3.
"If according to the present church theology polygamy is a transgression then why were so many heroes of the Tanach in polygamous relationships? Surely you cannot uphold a Messiah descended from such polygamous people of Y'sra'el? This was and still is how the Y'sra'elites lived and our ancestors such as Abraham, Jacob, Moses, Jesse, Sovereign David, Sovereign Solomon, Rehoboam, Zerubabb'el and many others are only some of the few who were living such lifestyle and culture. Adopting the hateful anti-Hebrew theology of the anti-Semitic church fathers some of whom popularized asceticism one can see why the present church still lives in error. While Roman Catholicism altogether restricts marriages for its priests, which continues to brew sexual child abuse in that Institution to this very day. Monogamy and Polygamy are both set-apart lifestyles for the believer, he may choose what is right for him because neither is transgression. The present church should hide its head in shame for lying and preaching error calling transgression what YHWH called kadosh, whether biblical monogamy or polygamy to advance Y'sra'el and her sons." Hidden Truths Scrolls pg. 965. Footnotes. Simon Altaf.
4.
Oral and kinky sex is actually spoken about within the Scriptures. In Songs of Solomon, this book has 117 verses, 470 Hebrew words (47 of which appear only in this book), Hebrew tradition (the Mishnah, the Talmud, and the Targum) viewed the book as an allegorical picture of the love of YHWH for Y'sra'el. The allegory behind this letter is of Yahushua and the assembly, while with Solomon the Pashat reading is the love of his wife. Again, this book is about his love for the Shunammite black queen. In allegorical terms this book is about Elohim and His love for His people. For example, Song of Solomon 8:2 "I would lead you, and bring you into my mother's house, who would instruct me: I would cause you to drink of spiced wine of the juice of my pomegranate." Song of Solomon 2:3 "I sat down under his shadow with great delight, and his fruit was sweet to my taste."
Song of Solomon 7: 12 - 13
Let us get up early to the vineyards; let us see if the vine flourish, whether the tender grape appear, and the pomegranates bud forth: there will I give you my loves.
13
The mandrakes* give a smell, and at our gates are all manner of pleasant fruits, new and old, which I have laid up for you, O my beloved. "*The mandrakes were a fruit used in the ancient world for lovemaking and also referred to as love-apples. The Arabs refer to this as abdul-salm, meaning the servant of love. They used it to make wine." Simon Altaf. Meanwhile, Samson was tied up with rope and had sex until midnight, then at midnight he got up, grabbed the doors, the two door posts, and the bars of the city gate, and uprooted them. He put them on his shoulders and carried them to the top of the mountain opposite Hebron
Within many religious circles, sex is a taboo subject that's avoided at all costs. But one must ask: How am I supposed to please my spouse sexually? Well, we are to please our spouse's as best as we can and as often as we can. If you cannot or do not want to please your spouse, then you are not up keeping part of your contractual agreement. And if you have been increased to have multiple wives, you should be pleasing each one of them as much as you can and as often as you can. If you're not good sexually, this article will assist you in that area.
Sex has many benefits, but before we get into any of its benefits one must be on one accord with your spouse. Constant arguments, stress, worrying, trust issues, and health concerns can all limit the openness of one's mind in sexual activity. Within the mind is where sexual pleasure starts. When your spouse's mind is open; stress free, worry free, not questioning trust, you can experience some of the best sex. This happens because many times a female will not open up completely unless she feels totally comfortable. This can limit your spouse from experiencing orgasms of various types. Now by stress free and worry free, we don't mean that it's no worries or stress within the world (like the workplace, children, school), but we mean that within the union between you and your spouse; under whatever condition, you can appreciate the small things about each other. Within that appreciation there comes a feeling of oneness (Akhad – meaning one in unity), and that feeling is a result of trustworthiness, and the feeling of one's love language being fulfilled by your spouse.
Continuing down the path of oneness and opening your spouse up to receive the full benefits of sexual pleasure, one must learn what form of love language your spouse responds to best. Each individual was raised differently, in different locations with different languages and cultural differences. We must learn how to break through those differences, in order to tap into your spouse's primary source in order to feel loved. The beginning steps is proper communication. Communication is the most underestimated, undervalued, underappreciated, and underdeveloped skillsets many people lack whether in the Truth or not. We as a people simply cannot communicate properly and this is very detrimental. Imagine, how hard it can be trying to communicate with your spouse when you constantly see one another daily. We scream instead of ask, yell instead of saying, "I had a really bad day, and I'm extremely frustrated", and argue instead of sitting down and patiently communicating your point of view and listening to your spouse's point of view. Another communication issue is listening. Many couples fail to listen to each other, and listening also means observing one's body language. If you and your spouse cannot communicate properly, than you must seek further help from a Rabbi like Simon Altaf and Kefa Ben Yah.
Sex is an action to love, but if the love isn't fulfilled than the sexual experience will lack. To learn to love is a life long journey. To be given the wisdom of love is a gift. To act it out is your treasure. Love is not just a feeling taught by many within the Western cultures. Love is far deeper than feelings. For ones feelings can greatly be dictated on each day, your emotional pattern, your background, and your heart. Love is an intimacy of both action and emotion where you provide and protect what is given as a privilege. It's not just an abstract thought. Torah love is given through wisdom.
Many people want a relationship, but relationships whether a concubine, monogamous or Polygamous union are not something you take lightly. It reveals the heart, your own faults, your own hurts, it challenges you to heal, to apologize for your mistakes, and it teaches you about oneness and unity. It teaches you about sharing, opening up, listening, constructive ways to express your anger. It measures you and your commitment. Many people give up on the relationship they once prayed for because they couldn't handle the aforementioned responsibilities. Since we were not taught how to be loyal within a real relationship, we give up. Many of us fail to enter a real relationship because we jump from relationship to relationship every time the fascination stage is over.
Within the fascination stage many people believe they found the "One." However, if you're feeling those sparkles, or if you're feeling like nothing else within the world matters, and if you can't see the others' faults, then you are fascinated. This process can last up to two years. Some as little as a couple weeks or months, even days. Be on guard! The fascination stage is where you are most likely to be tempted to have sex by your body and your partner. Ladies, this is where many playas focus on in order to get in between your legs. Many skilled playas, both men and women can effectively continue cycles of fascination to bypass their lies and cheating ways. And many playas who are rejected continue to come back for more because it poses a challenge. Rejection makes some people continue to try since rejection can show a form of emotion which indicates to playas that they can flip that negative emotion to a positive one in order to deceive you. Indifference doesn't. Torah love is not judgmental. To judge uprightly and being judgmental are two totally different things. Torah love lives uprightly with both the Most High, your spouse, your family, and your brother or sister in the Truth. Torah love is unity, oneness, humbleness in the right times, encouragement in the times of need, joy in the times of hurt, loyalty in all times period.
There are relationships where there isn't love; neither by actions or feelings, but indifference. Yet, if you are willing, it can be changed. Every person has their own pattern that makes them feel loved. But, in order to make someone feel loved even if they don't want to be loved, you have to commit the action of the pattern that communicates love to that person. What you may interpret as feeling loved is different from everyone else regardless of religion, race, age, or language. If your spouse cleans a lot or works around the house a lot, her love language may be serviceable acts. Therefore, try to take up and do her acts of service and see if she'll start responding back with love to your emotional pattern. Some females may feel as though they do all the work, this is a sign of her love pattern called acts of service. Therefore, do half of the work she does even if it's little from time to time.
Many guys respond well to affirming words. This can be accomplished by writing a letter, poem, or just simply speaking it to the person directly or even indirectly. Musicians, athletes, or anyone in performing arts are most likely to respond to affirming words. So, when you speak harshly at your spouse, and you wonder why they don't respond to what you do, then this is why. For words of affirmation can make many men feel loved, and when people feel loved by your action, then they will attempt to love you in return according to the love pattern they know. The most extreme form of negative words can result in verbal abuse. We all have to understand that most of us do not understand how to communicate love in every person's love pattern. It shouldn't be expected for one to know something you don't know about yourself regarding your own love pattern or love language.
Quality time is another pattern where many females respond well to. If you're not around to spend time with your spouse, things will be very hard for you to just jump in the bed to have sexual relations. Your spouse will feel loved when you spend at least 15 – 20 minutes a day of undivided attention to your spouse. That means just you and her; not you and your phone or Facebook, or Television, or your job's project or even the kids. Your spouse's variation or duration of quality time may differ. It could be she likes you to sit and watch her favorite show, or a night to the market to shop, or a romantic bath with candle lights, or just sitting on the sofa, holding hands, making eye contact talking about your day. If your spouse continues to say, "You don't spend any time with her", this is a sign that she's asking for quality time.
Yet another love language is gift giving. Does your spouse respond better when you bring her flowers, or a box of chocolates, or a card, or a hand written letter? Well, guess what, this may be a sign that she feels loved and appreciated, and thought of when you take the time to get her a gift. It doesn't always have to be an expensive gift. It could even be hand made, but it's the thought that matters to those who feel loved by receiving gifts. By focusing on the patterns of your spouse and figuring out what makes them feel loved, you will then understand the actions of love. It is entirely possible that your spouse even your children may respond best when all of these combinations are used throughout time.
When your partner feels loved, the sexual experience is magnified tremendously. The probability of female organism is increased, and the spiritual connection during sexual relations is heightened. Most couples agree that they feel more emotionally, mentally, and physically connected with each other after good sex, but generally that feeling of mutual connection begins to wane over time, overwhelmed by all the pressing details of home, work, kids, etc. Feelings of disconnection and unmaintained love languages can also lead to arguments and fights, which make it more difficult for couples to find their way back to that deep sense of intimacy.
It is a well-documented fact that when 2 or more people breathe together at the same rate and the same pace, their heartbeats will literally synchronize. Just by harmonizing your breath, you harmonize your heartbeats, creating a powerful emotional and physical connection. Think of how you would relate to one another from this deeply connected, mutual experience. You may find yourselves being on the same "wavelength" mentally, emotionally, and physically, leading to more of that life-enriching sensual connection that so many couples crave.
Four Play
isn't just kissing and feeling up on one another. Four play can begin well before the kissing and touching starts. Use this practice to develop intimacy. Begin your journey with a ritual. This may be something as simple as feeding each other delicious foods or sharing a glass of wine in the nude. Some couples enjoy bathing together in order to attune to each other.
Take time to wash each other with loving care. Water relaxes the body and is a symbol of sexuality. Massaging each other is also an excellent way to fuse your energies. Or, read poetry to each other, dance, play, listen to music—work on developing new intimacy skills. Most importantly, use this time to
communicate,
sharing what you adore about each other. The idea is to help each partner feel loved and cherished. In order to fully focus on each other (rather than on the goal of sex), some lovers experiment with various intimate rituals for several weeks before moving on to the next steps or engaging in intercourse. This is a wonderful way to strengthen the bonds of love and ignite passion.
"The only time we ever think about breathing is when we have trouble doing it, yet conscious breathing can be a powerful aid in sexual growth," according to sex therapist Marty Klein, Ph.D. of Palo Alto, California. Breathing exercises also quiet the mind and help you focus on each other. Try this exercise: Sit quietly, cross-legged, facing each other. Rest your hands on your knees with your palms facing up. As you gaze into your partner's eyes, take soft, but deep breaths. Keep your eyes open, gazing beyond the eyes, into the soul. Although this may feel awkward at first, sustained eye contact is essential for building intimacy. Now, pay attention to your breathing. Begin to breathe at the same pace, bringing air slowly in through your nose and exhaling through your mouth. Maintain eye contact while you breathe together. Practice this exercise until you can sustain eye contact and harmonized breathing for about 10 minutes. Then, you may move into the next exercise.
So how do you have this experience on a regular basis? It's easy:
1. First step is have the man sit in a comfortable upright position on a chair or the couch, with their back supported. Have the woman sit in their lap, face to face. Make eye contact and smile.
2. Next, place your left palm on your partners chest in order to make a heart to heart connection
3. Now watch the rise and fall of your partners breathing pattern, and match it.
4. Once you have the breathing pattern established, count 21 breaths silently together.
5. Then proceed to alternate or circular breathing, and ocean breath
Now see how your connection transforms. We recommend doing this practice 3-4x's a week for the next 6 weeks, to make a radical change in your love life. There is another practice that is most helpful in coming to understand what sexual fulfillment is all about. This is the practice of sexual praying. For best results this should be done each morning and each evening. It is a form of meditation. The partners lay together in a comfortable sexual position (usually the missionary position - either partner on top). They should lock themselves together as intimately as possible and adopt a meditative state. The sexual energy generated is used to 'pray' or meditate. In this way the sexual energy is directed upward into more spiritual realms.
Ideally, the love that one feels for one's partner is different from the social love that one feels for all others. 'True Love', as we might call it, is seamless. It unites two hearts at the physical level as well as the metaphysical levels. Partners should 'live together', not just in the sense of co-habitation, but in the sense of being 'at one' emotionally, mentally, and spiritually. Men and women need each other for satisfying, healing, balancing and adjusting their physical bodies. In sexual praying, all disharmonies are resolved.
Experiment with erotic touch to fully appreciate your partner. This most pleasurable practice will help you become better lovers. Although you should continue to maintain eye contact, don't worry about keeping your breath synchronized. Breath will come back into play later. Guide your partner as you take turns stimulating each other. Describe exactly how you would like to be touched. Share your desires in an encouraging way, making requests in a clear and loving manner. For example, ask your lover to caress your clitoris or penis (or any erogenous zone), encouraging him or her to apply more or less pressure, to stroke in a specific pattern, to use the tongue, etc. Thank your lover and let him or her know with words or sounds that you are enjoying this sensual touch.
Once you become comfortable with this process, you may wish to create a "pleasure chest." Include whatever excites you and your partner—a feather, vibrator, massage oil, blindfold, soft fabric, erotica and loving notes to each other are just a few ideas. As you pleasure each other, don't be shy about asking for something different. This is your time for appreciation, experimentation
and
for taking responsibility for your own fulfillment by asking for what you want.
1) Getting Her Turned On
A lot of guys skip this completely because often, especially in the beginning of the relationship, this happens automatically. The first time on your wedding night she is alone with you and the clothing starts coming off, she has a ton of anticipation and nervous energy that can get her wild with excitement. But months later, just because you drop your pants, she might not just get instantly soaked with anticipation. You need to
LEARN
to trigger that same kind of anticipation that gets her completely
WILD
with excitement. Eventually, if you master this skill, you'll be able to put her into this state as easily as flipping a switch.
2) Sexual Trust
If excitement happens automatically in the early parts of the relationship, the opposite is true of Sexual Trust. That's why so often a woman will feel incredibly aroused the first time you have sex, she may be biologically showing all the right cues and getting very excited... But still be unable to have an orgasm with you.
Orgasm for a woman is an act of surrender.
Some women can do this easily and for some women this is the most challenging part of having an orgasm. Think of it like this-- some men can easily get an erection under pressure-- but for some men getting an erection, say while a crowd of people watched and cheered him on, would be impossible. Now obviously you probably don't need to worry about a crowd of people watching you have sex... But maybe this helps you understand why, for some women, even if she is really turned on, she might not be able to relax enough to have an orgasm. Learning exactly how to build this trust is critical to helping pre-orgasmic women have their first orgasm.
3) Creating A High-Level Sexual State
The orgasm does not actually happen in the vagina... it happens in the brain. Scientists can hook an EEG up to a woman's brain and actually measure the stages of arousal that lead to orgasm. The easiest way to get that orgasmic brain-wave going is to stimulate the nerves in the clitoris... But, as I said, most women can learn to have an orgasm just from verbal command... they can learn to
"think"
their way to an orgasm. You can learn to double or even triple the intensity of her orgasms by learning how to create and take control of this mental state.
4) Emotional Connection
Everyone
TALKS
about the difference between
"having sex"
and
"making love."
We all know the difference. We can all feel the difference...I know that, in general, women feel the difference far more profoundly. Unfortunately
"making love"
is
NOT
as simple as just having sex with someone that you are in love with. Just being in love is not the difference... and of course... we all know that you can be in love with a woman and have some quick sex with her, and that can be fun. Being in love is not the key to
"making love."
The key is being emotionally connected
DURING
the actual act of love-making. When a woman experiences orgasm with a man with whom she is emotionally
CONNECTED
... in that moment... simultaneous with her orgasm... She experiences something profound, spiritual, and unlike any ordinary orgasm that she can
EVER
have masturbating or with a man who can't make that connection. It is something unforgettable. It is 10 times more powerful than even the most powerful orgasms she can achieve any other way. For a man, building that connection with her takes more than feelings of love-- it takes a rather large dose of courage and confidence.
From here, you may wish to embark on your own erotic journey. Create amorous adventures together, exploring new and creative ways to awaken each other's bodies and minds. Then, you will be ready for lovemaking. Basic Sex Techniques It's always best to emphasize preparation for lovemaking. Erotic rituals such as those described above focus on exchanging pleasures, awakening the senses and allowing couples to communicate on deep physical and emotional levels. During this time, lovers are able to establish an intimate connection that can be maintained and heightened as they transition into the sexual dimension. Intimacy exercises are a form of extended foreplay, helping titillate lovers for the sex that is to come and create the optimal conditions for lovemaking. As you experiment with different techniques, don't worry whether you are doing something the "right" way. Do not judge right or wrong, good or bad. Ultimately, you and your spouse's pleasure is what matters most.
As you transition into sex, the idea is to maintain a state of sexual ecstasy for as long as possible. Keep in mind that lovemaking is not result-oriented, but rather, timeless and unstructured. Maintain a deep level of intimacy. Continue to gaze into each other's eyes as much as possible. Sprinkle your lover's face, neck and shoulders with light kisses and whisper words of love and encouragement. Help each other feel loved and desired.
Keep it slow. A long, slow build helps men control orgasm and piques women's arousal. According to Tantric teacher, Robert Frey, the longer you linger in this process of building energy, the longer men can resist ejaculation. During this time, focus on each other. If your thoughts should wander, gently bring your attention back to the present, concentrating on your lover and the magic of the moment at hand.
Bring your attention back to your breath. Resist the urge to breathe quickly. Quick breathing or panting creates arousal, speeding you toward orgasm. Instead, take long, slow, deep breaths from the belly, exhaling gradually. You may match your breath to that of your partner, or try breathing alternately—as you inhale, your partner exhales. This moves energy back and forth and connects you to your lover.
Vary your positions to explore your duality. Different sex positions add to sexual pleasure and balance male and female energies. When lovers release themselves from gender roles, they are free to engage in deeper, more intimate sex. Men realize their sexual potential through surrender, by being soft and open, gentle and vulnerable. Women, in turn, can direct and initiate. As you experiment with different positions, some male-dominant, some female-dominant, explore your capacity to be strong and gentle, generous and receptive.
Multiple Orgasms for Men Sex distinguishes between the experiences of orgasm and ejaculation. Although they often happen at the same time, men are capable of having orgasms without ejaculating. Ejaculatory control is what makes it possible for lovers to capture and extend the magical energy of orgasm. By holding back, men can experience a series of "mini-orgasms." This does not mean that you are never to ejaculate, but that you can control your climax. The essence, is to catch a wave of energy and to surf the edge without going over. Use these strategies to stay atop the wave:
The pubococcygeal (PC) muscles, which run from your public bone to your tailbone, are the ultimate sex muscles. These are the same muscles used to stop the flow of urine. If properly conditioned, the PCs enable you to stop ejaculation while continuing to enjoy sex. Kegel exercises are the best way to tone the PCs. Here's how: Contract your PC muscles three times per day, squeezing 20 to 25 repetitions. This is a simple exercise that you can do at any time. Just don't overdo it. After a month of conditioning, try to extend the squeeze, holding each contraction for two seconds. Gradually work up to 10 seconds. Once your PCs are in top shape, you will be able to pump them in order to ride the orgasmic wave without gliding over the brink too soon.
Relax. Although it sounds paradoxical, it's important for men to stay relaxed during high states of arousal. If you feel the undulations of ejaculation, take a slow, deep breath and stop making love long enough for your arousal to subside. Relax and try to direct energy from your penis up through your body.
Take this time to talk to your partner or to draw several slow, deep breaths. By experimenting, you will discover how much "time out" you require before catching the next wave. The idea is to allow yourself enough time for the intensity to subside, but not so much that you lose your erection.
Put it all together. When you and your partner make love, thrust slowly, allowing your arousal to build gradually. Before your excitement mounts, relax for a moment, tighten your PC muscles and take a deep breath. Resume your lovemaking, continuing to generate excitement.
Then, relax again, hold your PCs and breathe. Continue to ride this swell until you near the crest. Then, open your eyes, clamp down on your PC muscles and take a deep breath to experience the joy of orgasm without ejaculating. Since these techniques take practice, expect a few "wipe outs" before you achieve mastery. Men are encouraged to approach 98% or 99% of orgasm, but not to 'go all the way' to ejaculation. This takes a fair amount of discipline on the man's part, but the rewards are orgasms that last up to hours, and fortify and energize him.
There is a story that these practices were originally developed for the Emperor who had 2,000 wives and 10,000 concubines, all of whom he felt obligated to satisfy and fulfill. This he could not do if he had to ejaculate every time he had sex. This point is used in sexual relations to produce the 'Super Orgasm.' Normally, it is used from time to time, after the man has practiced withholding orgasm several times. By this time the sexual energy concentrated in the ejaculate can be overwhelming. With this method the release of ejaculate can be manipulated and controlled to last as long as the man desires. Rather than rolling over like a beached whale, totally exhausted and depleted from sexual activity, he is fully energized.
This is an important practice, since indefinite withholding ejaculation will lead to stagnation and problems, as much as over ejaculating leads to deficiency and problems. As in all things, balance is important. So the man must clear the ejaculate out of the Prostate and Scrotum for good health every so often.
Freeing Female Orgasm It is often said that a woman's most powerful sex organ lies between her ears. Since desire can be short-circuited by fear, guilt, stress and a host of other distracting thoughts, women often need to concentrate on
feeling
rather than thinking when making love. Taking breaks to pleasure each other, manually and orally, is a great way to ward off any lingering diversions and to coax one or more orgasms.
Nipple Four play -
It is very, very powerful... and, for most women... very, very surprising. What's more surprising is that it doesn't stop with the nipples. Women can have orgasm from the same kind of stimulation to the nape of their neck, inside the elbows, behind the knees, the back of the ankle, earlobes, the bottom of the foot, and many, many other places that I'm sure I haven't discovered. The important key is to find out which areas are most sensitive to
YOUR
woman... And then... experiment.
Most women will get aroused from having their nipples touched. If they don't, you are probably doing it incorrectly--too hard, too fast, not enough variation, too much sucking, not enough subtlety, too boring. Men sometimes want to treat breasts and vulvas as though they were a penis, and this
never
works. Some women, if you massage their nipples correctly, can orgasm and ejaculate simply from having their nipples touched!
You want to use your hands more than your mouth, and your thumbs more than your fingers. But of course, you want to use a little bit of all three to change it up. Slowly and tenderly turn her on by stroking her breasts and teasing the nipples. When you get her really turned on, arching her back for you to touch her nipples, start lightly brushing past them, almost by accident. Eventually, you can slowly start working her nipples. Depending on your spouse, it may be best to use thumbs in a circular motion, with some light sucking, pinching, and rolling between your fingers every once in a while--but only for a brief second before you return to circles (
one
lick or suck, then go back to thumbs).
Nipples will eventually get sore, so about every 5 minutes, switch breasts. This keeps the breasts highly sensitive to your touch; she will be longing for you to touch the other long before you actually do. Eventually, the sensations in her nipples will make her clit tight. A woman who's enjoying the sensuality of a wonderful nipple massage will be relaxed, almost fluid, and completely calm, lost in the sensations you're giving her. A woman who is trying to enjoy it, but you are doing too much or too little, will show signs of losing her dazed relaxation: she may frown a tiny frown, twitch or flutter slightly, purse her lips, scrunch her face, bite her lip, sigh slightly, or try to maneuver her breasts under you for better access. These are not the signs of a turned on woman, but one who is trying to get lost in the wonderful, dazed relaxation of a nipple massage but is being brought back to reality by nagging gaps in technique.
So watch her, and be aware of her reaction. When you have a woman who is lying, sublime and relaxed on her back, eyes closed, deep, even breathing, looking peacefully asleep and slightly dreamlike, you are doing the right thing.
If your woman is where you want her, congratulations. Even seeming half-asleep and dreamy, she is still aware of you and your reactions. You are playing an important part in turning her on! Make sure that you match her dreamy state: move slowly and fluidly, with no sudden, jerky movements. Keep your breathing deep and slow; this will relax her even more. Touch her lightly and softly. Don't talk much or make many noises; when you do talk, it should be low and seductive, speaking to her in a calm, soothing voice. Take this time to enjoy your spouse, keeping your breathing deep and even so she can hear it, enjoying her relaxed body being sensuously aroused beneath your loving hands.
Keep gently massaging her nipples. Eventually, try massaging both at the same time, or suckling one while massaging the other. The key here is
suckling,
not sucking. Suckling means you are making tiny breastfeeding motions with your tongue and mouth, like a baby. It is faster, lighter, and more rhythmic than your average grown male sucking on nipples, which actually doesn't feel that great. Fast and light does the trick!
Eventually, if you do this right and give her small two-second breaks to kiss her stomach, cup her breasts, or roll her nipples gently between your thumb and forefinger, you will get her clit really tight. If you go long enough, she can orgasm and ejaculate multiple times as you keep teasing her body into ecstasy. The trick is to give her no clitoral or vaginal stimulation at all; nipple teasing is so light and slow that touching her with your hand or pushing your leg up into her vulva will be too firm and ruin all your hard, slow work.
If she can't orgasm from nipples alone, you have at least spent a good hour or two making her clit aching and tight. Now you can put your hand between her legs and skim above her vaginal opening and clit.
Don't actually touch her.
You want to make her think you are going to stroke her, and stroke an imaginary line about a quarter of a centimeter away from her body. Her sensitive vulva will be able to feel the heat and air from your finger. Keep slowly "stroking" her without touching her, making long, straight, slow lines upwards from the base of the vaginal opening to the top of the clit. Don't stroke both ways, or you will give her too much sensation; stick with bottom-to-top stroking. If she orgasms, great!
Clitoral stimulation. Most women require stimulation of the clitoris and labia (the inner lips surrounding the clitoris) during sex to reach orgasm. Prolonged clitoral touch with a gentle, patient hand is, for many, the key to sexual ecstasy. Use sounds and positive words to guide your lover, showing your partner how to stroke you just so.
The sacred spot. The Grafenberg Spot (G-spot) is referred to as the "sacred spot." This potent and erogenous zone is located about two to three inches up on the front side of the vaginal channel. When your lover is aroused, slip your ring finger into her vagina allowing your fingertip to brush against the inner wall. For some women a bit of rhythm and a forward sweeping motion on this little spongy-feeling patch will send her into serious orbit. Others don't feel anything at all. For what it's worth, anatomically, every woman should be able to get orgasmic pleasure from the
g-spot.
If your woman can't, you can probably "train" her to start to enjoy it, and eventually give her very powerful orgasms there as well
The G-spot is between the size of a pea and a quarter with a slightly rippled texture. For some women, though not for all, gentle stimulation can induce powerful orgasms and even female ejaculate. However, take care not to over-stimulate this sensitive spot.
According to philosophy, lovers who have practiced these ancient techniques can learn to direct sexual energy through the body's "chakras," or energy centers. Moving the energy of orgasm through these physical channels is thought to create sensations of ecstasy throughout the body and to enhance health.
A-Spot -
Some people call it the
"A spot"
, some call it the
"deep spot"
, but whatever name you use, if you go straight back, deeper into the vagina from the g-spot, right where you meet the cervix, you feel a ring of very smooth skin. The top of this ring (towards the belly) is known as the anterior fornix. This area can be stimulated exactly the same way as the g-spot (if you have long fingers), but it is also the place where the head of your penis presses during deep intercourse. Some women refer to the orgasm that results as a
"deep body orgasm"
or a vaginal orgasm, but regardless of how it's described, it is a another very powerful orgasm trigger point. These deep orgasm can be very intense, and can trigger a lot of emotion. If strong emotions come up with you and your partner during or after an orgasm, the most important thing you can do is just to remain calm. Don't start in with the
"what's wrong?"
or
"what can I do?"
. Just be cool. Be still. Be supportive. Be calm. Be gentle. Hold a safe space for her to experience whatever she has to experience. Hair stroking is good.
B-Spot -
By far, the most powerful orgasm trigger point in a woman's body is her brain. In fact, it is the spot that I was talking about that you can't see, but that virtually every woman will stimulate, along with her clitoris when she is masturbating. If you are saying to yourself,
"Come on now, sure it's important to get her turned on, but it's not really an orgasm trigger point."
Then you are wrong. Women can be brought to orgasm through nothing more than
WORDS.
That's right, you can
TALK HER INTO AN ORGASM.
And while that might be difficult to do, and certainly takes a lot of practice, the point is, it
IS
an orgasm trigger point, and I'd argue it is the
MOST POWERFUL
trigger point, and here's why:
First of all, virtually
EVERY
time a woman has an orgasm, it is through stimulation of more than one trigger point at a time... You can give a woman a blended orgasm from the clit and g-spot at the same time, or the para-cervical ring and the nipple at the same time... But basically, whether you know it or not, every time she has orgasm, you are at least stimulating her B-Spot along with whatever else you are doing. If she's not turned on in her brain, nothing else will work. Period. And it's more than just
"turned on"
... there is a
VERY
specific, very
EXACT
state that her brain must be in for her to have an orgasm...
If you are with a woman who is
"pre-orgasmic"
(has never had an orgasm before), this is exactly why.
She has the same wiring as other women... the same nerve density in her clitoris, her g spot... You can stimulate her other orgasm trigger points from now until next Sunday, and nothing will work if you can't master the subtleties of the B-Spot. Additionally, the extent to which you can master her B-Spot... her mental and emotional sexual state, will completely control how
POWERFUL
her orgasms are. I want to make sure you really understand the importance of the B-Spot, and the types of techniques you will need to use this
"ultimate erogenous zone"
to give her the most insane sexual pleasure of her life. In the same way that you need to figure out how to stimulate her clitoris (rubbing it like a magic lamp doesn't always do the trick), there is a lot of art to getting her mind to flip all the right switches to cause her to have an orgasm.
It is therefore in the man's best interest to be at service to the woman's orgasmic pleasure. This requires a great deal of information exchange between partners. The woman's orgasm consists of 9 separate stages, while the man's is only 4. In fact, orgasm in the woman is the 4th stage, same as the man's. After orgasm, the woman goes through 5 more stages of higher and higher frequencies.
These are important stages in the orgasm experience as they take the sex act from one focused only in the body into higher realms of frequency. This takes sexual activity out of the realm of animal urges and release into the human search for spiritualization. For partners, this takes them into a state of bliss which some call 'true love'. In practice, this is a state of being far beyond the hormone induced state of temporary insanity that passes for romantic love in present day society.
As well, you should approach sex as a highly effective healing activity. Modern science has identified hormones like Pheromones, and Endorphins, which not only have healing properties hundreds of times more effective than any drug or herb, in an otherwise healthy body these hormones provoke intense pleasure, and fortify and energize. Below are the 9 general healing positions of sexual intercourse recommended for everyone as a general practice:
As well, in thrusting and rocking maneuvers, these are to be done in sets of 6 or 9 for full effect. But don't worry if you lose count, with practice this becomes second nature. In Typical Chinese fashion, sexual positions are drawn from observing nature. Not only are the positions visually reminiscent of their natural namesakes, but adopting the character of each is encouraged.
The Woman's Orgasm
There are 9 levels to the female orgasm. Each level corresponds to an organ system and has observable signs. In most cases these levels tend to overlap and intermingle, and it is the man's job to correctly discern when one level is complete and the next level has been entered, until all are completed.
These levels are;
Level 1 - The Lung organ system. The woman sighs, breathes heavily and salivates.
Level 2 - The Heart - The woman, while kissing the man extends her tongue to him. The tip of the tongue, according to Five Elements theory corresponds to the Heart, so she is in effect, reaching out to him with her Heart.
Level 3 - Spleen, Pancreas & Stomach - As her muscles become activated, the woman grasps and holds the man tightly as if taking him in as one takes in food.
Level 4 - Kidneys & Bladder - She experiences a series of vaginal spasms and secretions begin to flow. It is at this point that many believe the woman has orgasmed. Like the man, she begins to relax as her joints loosen.
Level 5 - Bones - Her bones loosen and joints loosen and she begins to bite, scratch or tightly hold the man.
Level 6 - Liver and Nerves - The woman undulates and gyrates like a snake, trying to wrap her arms and legs around the man.
Level 7 - Blood - Her blood begins to boil and she is frantically trying to touch the man everywhere.
Level 8 - Muscles - Her muscles totally relax. She bites, scratch's or tightly holds the man even more.
Level 9 - The Entire Body is Energized - She totally collapses in a 'little death'. She completely surrenders to the man and is completely opened up.
Key to the success of this kind of sexual pleasure is the man's ability to withhold his orgasm, while he brings the woman to full orgasmic fulfillment. This brings complete fulfillment to both partners, as the man is himself energized by the pure energy of the woman, and protects his own essence. His own essence that would have been lost by ejaculation is retained and directed upwards. Ultimately, the experience for both is far superior.
Any difficulties at any of the stages would suggest a disharmony at the level. For example, lovemaking that habitually stops at the 4th stage, either indicates a problem in the Kidneys, or, over time may be the cause of a Kidney disharmony. Kidney disharmonies are manifest as prostate problems in men, and uterine problems in women.
Welcoming Love Make time for each other every week. Plan a sexual rendezvous at least once per week. Set aside an hour or more of uninterrupted time to be together. Although it may be difficult to find the time or to manage children, you won't be able to benefit much if your relationship is not among your top list of priorities.
Create an inviting atmosphere. Whether you meet in your bedroom, living room or another space in your house, creating a sacred space for each other will help relax you and bring you into the moment. Candles, fresh flowers, erotic art, finger foods and tantalizing aromas can transform any room into a temple of sexual delight. Even something as simple as dimming the lights and playing erotic music will help create a welcoming environment.
Dress provocatively. Or, wear nothing at all. Experiment with clothing or accessories that make you feel sexy and excite your partner.
Work Cited
· Altaf, Simon.
Hidden Truths Hebraic Scrolls
. N.p.: CreateSpace Independent Platform; 5th Edition (June 13, 2013), 2013. Print.
· Website Title:
HowStuffWorks
Article Title:
HowStuffWorks "Part Four"
Date Accessed:
June 27, 2014