Tha Shadoz Truth Music Culture
Bet'Al
---
ALEF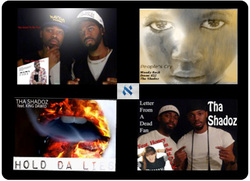 ---
Generations before us, contrary to popular belief, we have been privately and publically proclaiming to our people for hundreds of years,
way before the Holocaust or World Wars I and II, that we are Ysrayl, but we did not change or spread the knowledge of the way of life to our children for we desired to have what the white man has. Nor did we consider that what they have is freely given. But, what we have is a contract that has to be renewed over and over again, and it could be taken away at any given time. Therefore, at the end of the day, if we don't have faith in this truth by doing our works unto righteousness, written of in scripture, by changing our ways and not just saying, "I have faith," as in the times of old—playing words—who would truly believe we are Ysrayl? Your faith that produces righteous works will be the way we debate and disprove these hateful scoffers. For your faith and your works will be proved by teaching the poor and needy, the children and teenagers, those on the streets and those in the schools, your children and your family—that you are of Ysrayl. Teach them to understand what is sin, the sin of their forefathers and their sins they committed in ignorance.


A Truth that's Real History
In 70 AD, when Titus sacked our temple and enslaved us (because of our disobedience), about 1 million Israelites fled into Africa to escape the siege. Africa had been known as one of the safest places in the world at the time. In fact, our people have been living there before the birth of Yahushua our Messiah (Christ) centuries before. One of the oldest Jewish cities was Carthage, established by our forefathers before the destruction of the First Temple in 586 BC. We fled by foot and boat...that's how we got to West Africa. The Phoenicians, another Canaanite people, knew the secrets of navigation long before the Europeans did and brought us over by way of the Mediterranean Sea into West Africa,our Israelite forefathers were sold into slavery. The Most High YHWH relayed to our people through Moses, "And YHWH shall bring thee into Egypt again with ships, by the way whereof I spake unto thee, Thou shalt see it no more again: and there ye shall be sold unto your enemies for bondmen and bondwomen, and no man shall buy you."(Deuteronomy 28:68) "No man shall by you" signifies that no man shall be able to restore us from our miserable condition. All the efforts of previous so-called "African-American" leaders have not been able to remedy our people's condition in the United States.


Hidden-Truths Hebraic Scrolls - Torah (HB)
By Simon Altaf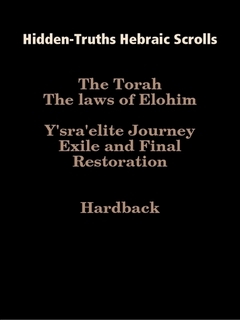 The many questions
that you have had and now they can be answered. What happened in the Garden of Eden, where was it, who was in it? Where was the Garden? What was Noah's curse? Who was Noah and where did he live? How many wives did Abraham have? What about Keturah, Hagar and many other questions answered? What was the serpent in the Garden? How did the Y'sra'elite journey begin, where are they in exile today and how will the restoration take place? What and who were Abraham's family, his sons his wives, his sons wives and lots more. This is a journey that will be unforgettable. For more Info please visit:
www.African-Israel.com
or click the following link to purchase:

http://www.lulu.com/shop/simon-altaf/hidden-truths-hebraic-scrolls-torah-hb/hardcover/product-20251508.html
---
The Plea For Righteousness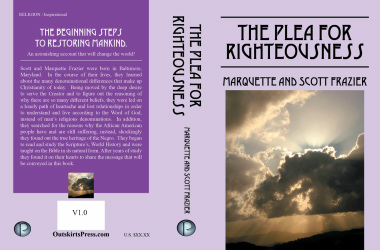 The Beginning steps to restoring mankind
.

The Plea For Righteousness The Beginning steps to restoring mankind:
Have you ever wondered how you should serve ~YHWH~ of the Bible? Have you ever wondered and asked yourself, if the way I am currently living is acceptable to Elohim (God)? Do you ever wake up in the morning and see a beautiful and calm sky, to only turn on the news and hear about neighborhood killings, war, rape and all types of ungodly acts? Have you ever read your Bible and asked where are all the Israelite's that the Bible speaks so much about? Well, "The Plea for Righteousness" looks at those questions and from the Scriptures, gives a clear inspirational understanding of how God wants to be served. If you want an eye opening account of wisdom and truth, this book will give you many strong thought provoking answers. It's the authors' desire to help the world become a better place for mankind to live. We truly believe understanding the truth that the Scriptures have, and teaching this understanding to the people will make a significant change to the world as we know.
http://www.amazon.com/Plea-Righteousness-Scott-Frazier/dp/143277

The Plea For Righteousness
---